Three semesters have to be completed under the S3 Asia MBA program. Students will start their first semester in Shanghai, spend their second semester in Seoul, and finish their last semester in Singapore. Students who intend to get a degree from Fudan University need to register for the fourth semester and write their master thesis.
The S3 Asia MBA requires rigorous study, creativity and imagination, analytical thinking and teamwork. The curriculum is carefully designed to allow students to continually build on concepts and skills learned in earlier courses as they proceed through the program.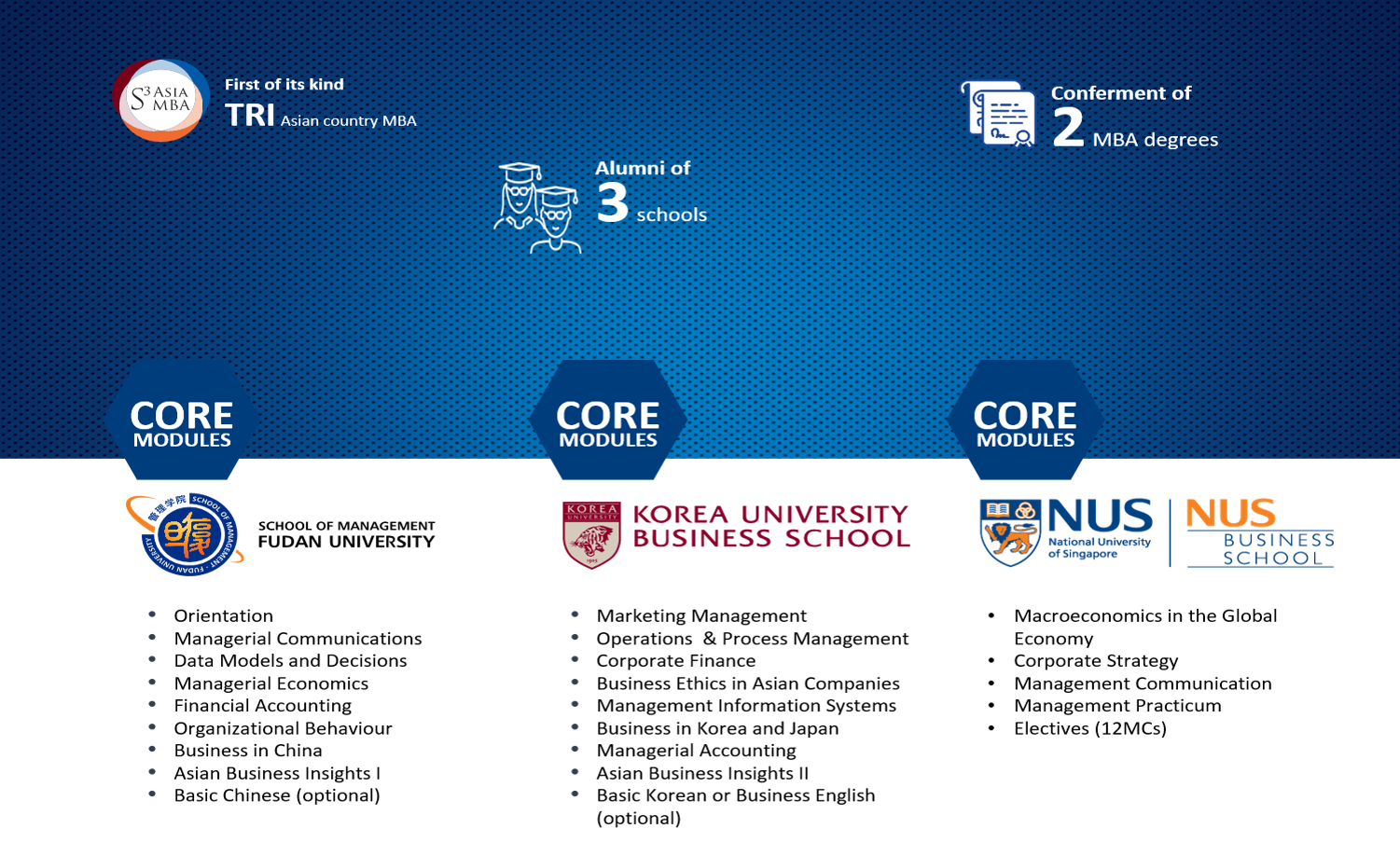 The credit hour for each course is aligned with the teaching system of each respective university; course credits will be directly accepted by the other S3 Asia MBA partner universities.
In the first semester conducted in Shanghai, the S3 Asia MBA students will take core courses, which provide the foundational skills of business, including the basic concepts of microeconomics, financial reporting, statistical tools and decision heuristics, managing individuals and working in teams. In addition, they will take Business in China, a course which covers Chinese history, culture, economy and business practices. This course is delivered via guest speaker series, seminars, and group discussion.
The second semester in Seoul consists of courses such as marketing, operation management, information systems, and corporate finance. These educate students on the operational pillars of a business enterprise, building on the foundations established in Semester 1 and showing how integration of functions helps in managerial problem solving. Business in Korea and Japan covers business practices and cultural understanding of these two countries. In addition, students have the opportunity to get hands-on experience and learn how to do business locally through internships in each country.
The final core courses in Semester 3 conducted in Singapore focuses at the big picture, by illustrating the interdependencies between the different functional business areas, and how all are affected by the turbulent, competitive and international environment in which corporations operate. Three electives will be offered to students.
In addition to the regular curriculum, the S3 Asia MBA also offers a range of seminars and workshops conducted by external trainers aimed at developing S3 Asia MBA students into effective managers. From MBA Luncheons to extracurricular program, these events invites business leaders on campus to share the latest developments in their fields and essentially share the secrets behind their successes.